The warship Vasa is harboured in a quite impressive building topped with three reddish masts on the green island of Djurgården. Some construction problems turned her first journey in the 17th century into a fiasco: Vasa sank deep into Stockholm's bay after a 20-minute voyage. She was recovered only 333 years after her sinking. In 2020, the time has come to celebrate the 30th anniversary of the Vasa museum; the last home for the world's best preserved 17th-century ship.
Today young and old alike come and see the remarkable warship, which still renders speechless those who come to meet her for the first time. Now it's your turn to have a look at Vasa and unearth the secrets that had been submerged for more than three centuries. An experience to share with the whole family!
 An Unsuccessful Maiden Voyage
Vasa's storybook opens up on 10th August 1628. The most powerful ship of the Swedish fleet stands proudly in front of the Tre Kronor Palace in the old town. Today is the day of her maiden voyage. Alas, nothing would go as originally planned. After the firing of 64 canon shots as a salute of honour and the raising of her sails, Vasa began her voyage towards Poland where the great king Gustavus Adolfus had been waiting for his warship. It only took a few minutes into the waters for a first gust of wind to hit her sails. Vasa began to heel, but could still sail a bit further until another gust of wind blew hard from afar. After a 20-minute journey and about 1,5 kilometres from the starting point, Vasa sank in front of the island of Beckholmen where she would remain submerged for the next 333 years.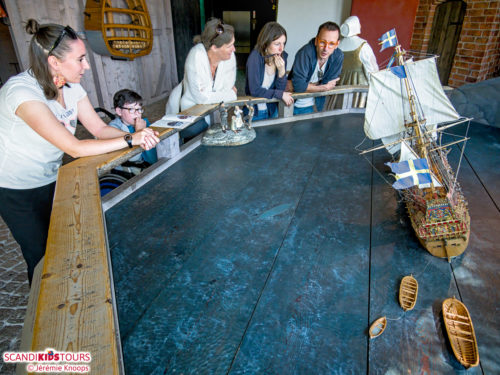 Lindbom, the Vasa Piglet
 Once upon a time Lindbom, a little piglet, left his favourite mud puddle and headed out on a new adventure: a journey on board warship Vasa.
Björn Bergenholtz is a Swedish author and illustrator dedicated to children literature. It so appeared that a number of pig footprints had been found within Vasa's bricks and that one of these is now on display in the exhibition "Life on board". Said brick, which had been recovered from Vasa's galley, more specifically the ship's kitchen or the only place where an open fire was allowed on board, might actually have inspired Björn Bergenholtz in his writing of Lindbom's story.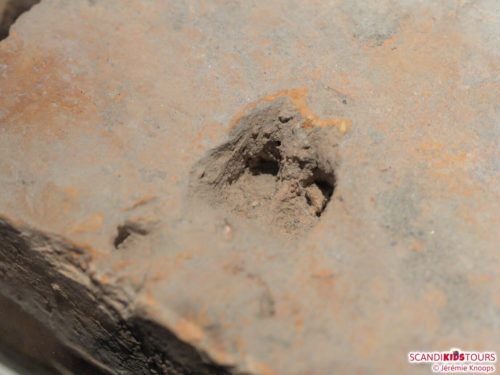 So, let's follow Lindbom's tracks throughout the museum with your family. Kick off with a short film in the cosy child area on the third floor. Get carried away for just under 20 minutes of film and make sure you bring children as from the age of 3 to watch it too. Pick a language, Swedish or English, depending on when exactly either of them are streaming. Go to the museum's website and check out the schedule ( https://www.vasamuseet.se/en/visit/kids/the-vasa-piglet ) or ask one of the guides at the information desk when you'll be visiting the museum.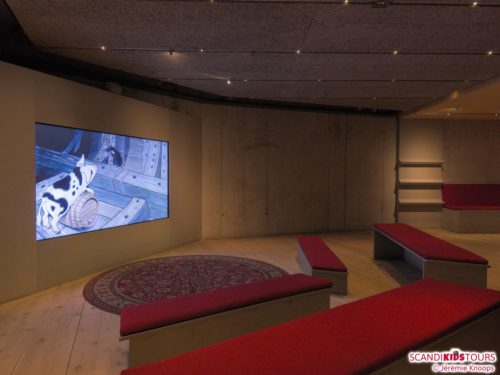 After the film screening, either stay in the children's area and quietly indulge in a book (about Vasa, of course!), or else follow Lindbom's footsteps that will take you through the museum. You only need to follow the free trail guide; it's both easy and fun! The Vasa piglet will show you around and, you'll get to to answer some tricky questions based on the film! This tracking activity is recommended for children aged 3 to 7 years old. If you enjoyed Lindbom's storytelling, why not finish your visit of the museum with a little detour in our boutique and get your own copy of the book The Vasa Piglet, either in English or even in Swedish for the bravest among you!
Young and Old Gather Together at Vasa
The museum's pedagogues developed a family trail to entertain children between 8 and 12 years old. The youngsters will thus get the opportunity to become their parents' guides, even if just for a moment. They will go around the museum – map always within reach – and discover the must-see areas of the museum. Get your own family trail at the information desk; it is available in English, but not only!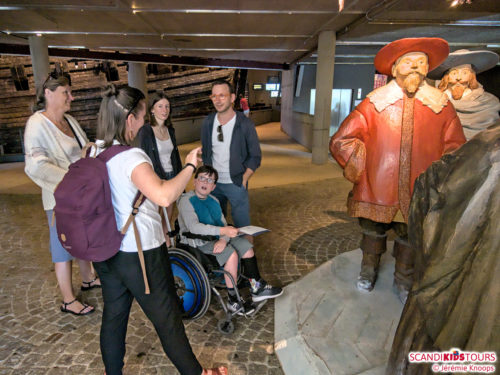 However, if you really want to make sure you don't miss anything while visiting this astonishing museum, book yourself and your family a Scandikidstours guide! By taking a little quiz, the younger generation of visitors will discover every corner of the building and every single detail of the Vasa warship: from life on board to 17th-century war techniques; from Gustavus to Swedish history, everything will or can be covered! Yet, most importantly these little rascals will understand why and how Vasa sank on her fateful maiden voyage. After this experience of the Vasa museum with Scandikidstours, that ship will no longer harbour any secrets for you.
 A New Colourful and Interactive Exhibition
Less than a year ago, the Vasa museum inaugurated a new exhibition: "Vasa Up Close". Its aim is to give the visitors the opportunity to be even closer to the ship than they have been before and to see the vessel from another perspective. About ten new colourful sculptures were settled in on the sixth floor on the starboard, bringing some welcoming bright touches to the otherwise too dark ship.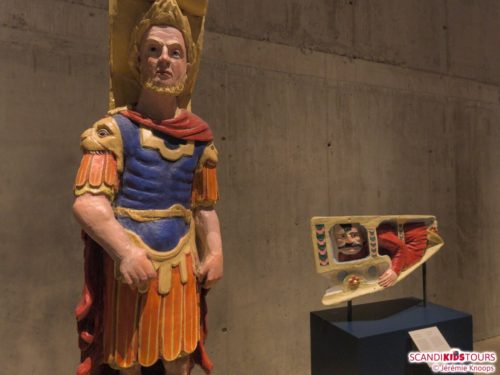 The exhibition has been livened up with a new app available via the following link: http://upclose.vasamuseet.se/public/upclose/. You will learn more about Vasa and her secrets via your own smartphone or via the tablets that are publicly available at the museum. (Please bear in mind that said tablets are temporarily out of service given the current situation with Covid-19.) 
Aye aye, sailor! Time to cast off towards Stockholm. Come and see us soon at the Vasa museum! We are ready for you.
Marie-Cerise, 30th September 2020
Reference: https://www.vasamuseet.se/en and visit of the museum.
Pictures: Jérémie Knoops